Bitcoin experienced sudden volatility on Wednesday, April 26, 2023. During this period, the flagship cryptocurrency dropped by almost $3,000 in less than three hours, impacting both long and short positions held by traders.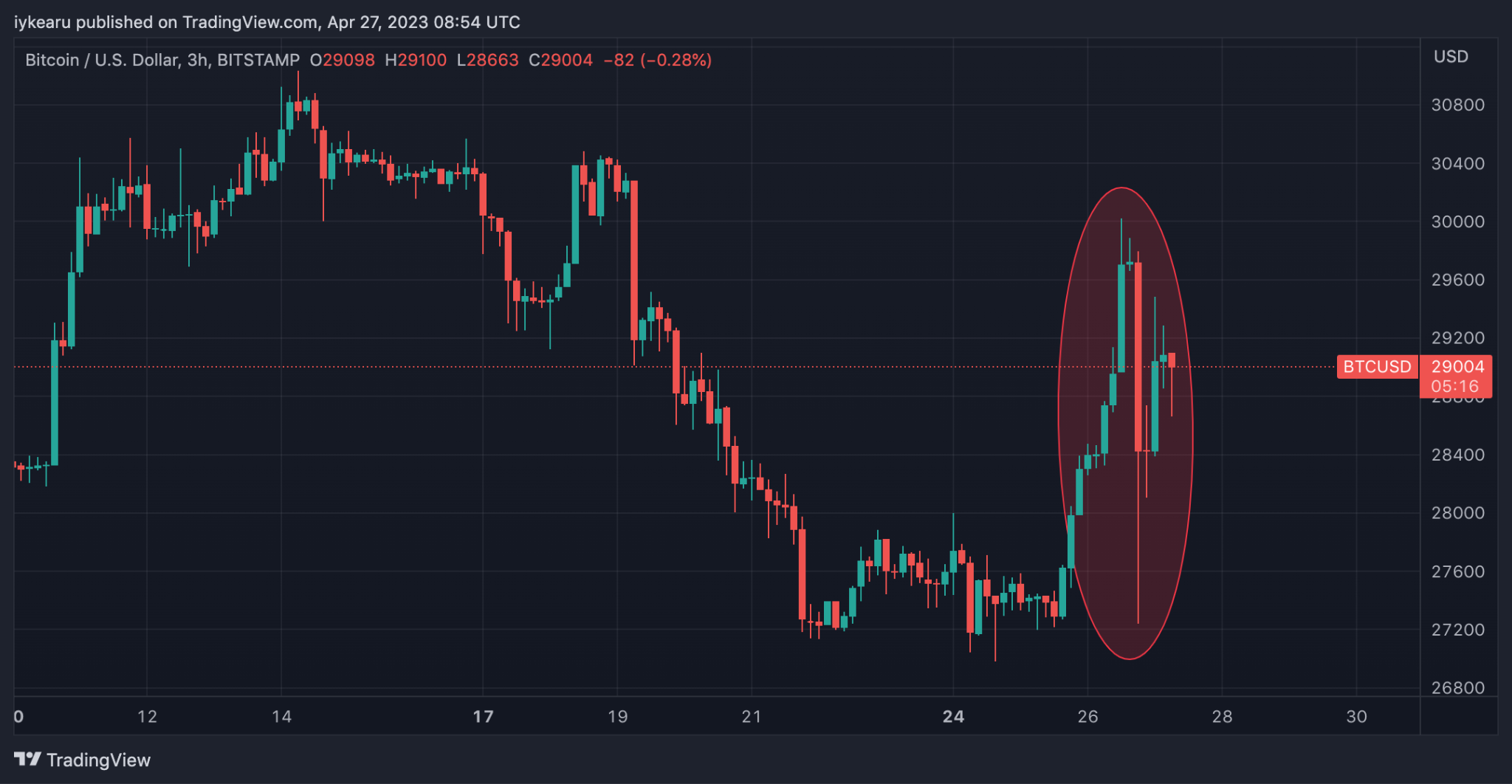 BTC/USD 3H Chart on TradingView
According to reports, the overall impact of this sudden volatility spread to a broader segment of the Bitcoin market, liquidating as much as $175 million worth of futures positions and wiping out up to $1 billion in open interest within 24 hours.
Sudden spikes resulting from market volatility are the bane of long-term positions. Under such circumstances, open trades whose margins get exhausted or highly depleted are closed automatically by exchanges and trading platforms.
The recent volatility experienced in the Bitcoin market spiked both ways. The price dropped extensively and liquidated several long positions. The price bounced, after activating sell-limit orders, only to spike high and have them liquidated. Only trades with high margins and extended risk exposures survived the volatility.
Reportedly, the crypto exchange OKX had over $52 million in Bitcoin liquidations on its platform, while Binance liquidated orders worth $38 million. The most substantial single liquidation was on BitMEX, with a BTC/USDT trade valued at $6 million forcefully closed.
Last Wednesday, the expectation of favorable monetary policies in the U.S. pushed Bitcoin above the $30,000 psychological level. That move didn't last long, as a sudden sale pushed the price down to $27,242 in just a few hours. The price capitulation resulted from rumors of the U.S. government selling Bitcoin seized from the infamous Mt.Gox exchange. Arkham Intelligence, the on-chain firm that initially sent out the alert, later debunked the rumor.
Bitcoin has recovered the losses of the past 24 hours and appears to have resumed its upward trajectory. As of the time of writing, BTC traded at $28,939 after reaching a daily high of $29,483.